Motorsport UK and MightE Join Forces for An Unprecedented Bambino Championship in 2024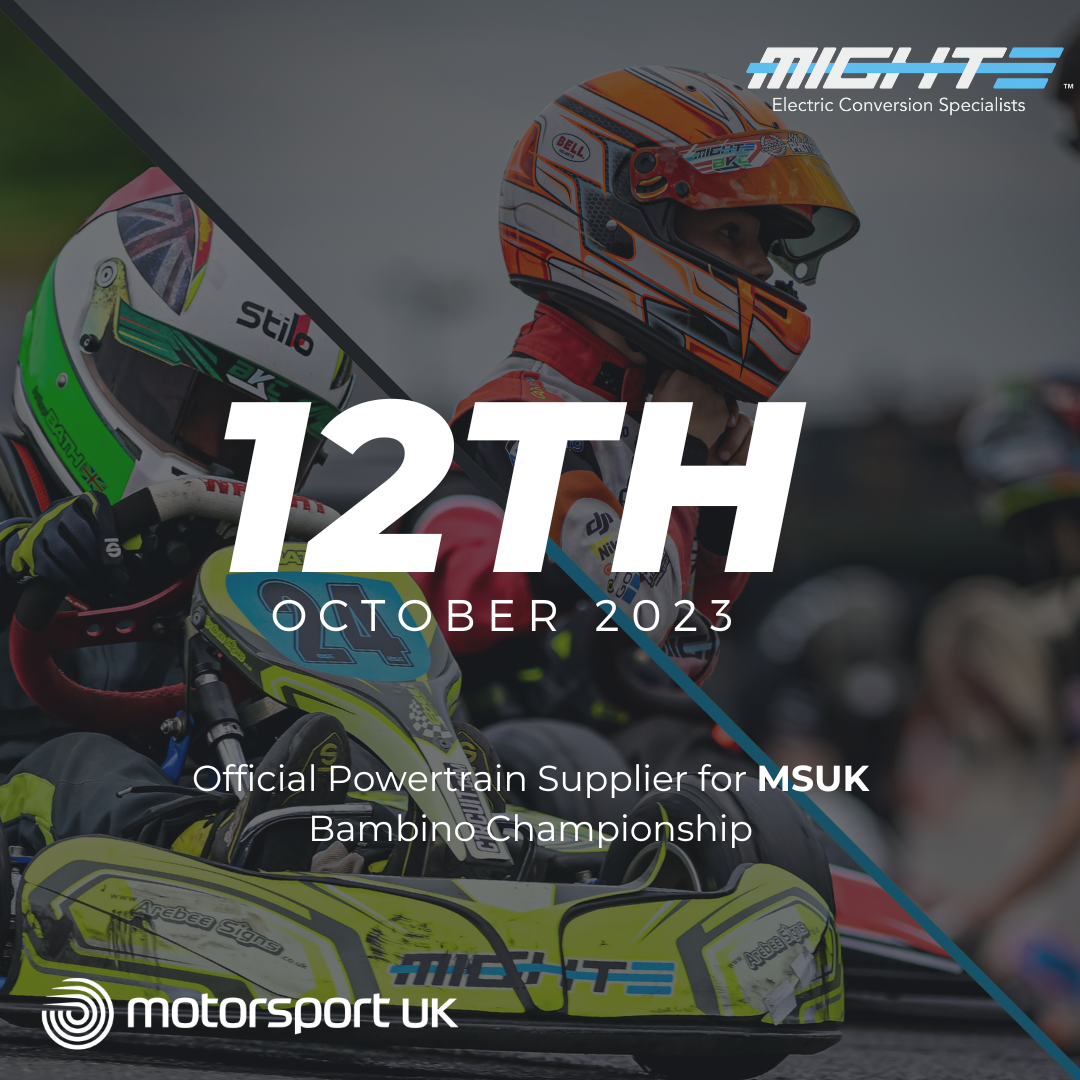 We're thrilled to unveil a pivotal partnership between MightE and Motorsport UK (MSUK) for the 2024 Bambino Championship. This collaboration promises to revolutionize bambino karting, ushering in a new era of electric excellence and performance.

But, that's not all. Not only are we celebrating this incredible alliance, but we're also rolling out the red carpet with an invitation to start preparation for the 2024 Bambino Season NOW!

Here's how you can jumpstart your journey in the MightE Bambino Championship.

*Getting Involved: Securing Your Place on the Grid.*

The first step towards the 2024 Bambino Karting season is securing your kit. And we've made it a breeze:

Over the past 6 months, we have been putting the NEW 2024 Bambino kart through rigorous and extensive testing with:

Battery Pack: We conduct thorough testing, particularly focusing on battery performance, to guarantee that we utilize top-tier components, ensuring unmatched performance and reliability for our users.

Electrical System: Ensuring safety through our innovative brake input, integrated throttle, and robust wiring harness designed to withstand the harshest conditions, we are dedicated to delivering a secure and exceptional karting experience.

Motor and Drive System: We've prioritized parity, and with the introduction of our gen4 kit, we can confidently state that races will be more competitive than ever. Our advanced parameters ensure consistent performance on every lap, regardless of whether your battery is fully charged or nearly depleted.

Throttles and Controls: Throttle control will be smoother and more intuitive than ever before, thanks to our integrated and updated dual-input throttle system.

Owners App: Due in early '24, we expect to have our owners app available for the gen 4 with functionality like beginner mode options.
Welcome the New 2024 MightE Bambino Kart:
Every penny promises unparalleled value, with a new kit designed for perfection and engineered for performance.

Here's the exhaustive list of what the 2024 Bambino kart kit includes:

Motor: Our tried and tested motor is specifically designed for MightE. With some slight changes, it's now able to perform to the new FIA approved low voltage requirements.

Inverter: Our latest 2024 controller is the brains behind the performance. Programmed to match the current MSUK bambino classes with added features and future-proof functionality. Future upgrades could include a 5-second boost function, integration with existing kart displays, and the ability to use your phone as a dashboard for MPH, power level selection, and much more.

Mounting Plate: Our simplified mounting system allows users to fit the kit to a chassis and be up and running in less than 10 minutes. Simply fit the chain, attach the 3 chassis clamps to the underside of the chassis, run your throttle cable to the pedal, and you're off and racing.

Full Motor Graphics Kit: Because while performance is key, looking good on the track is just as crucial!

Charger: A 10amp 58.8v charger is supplied if you need topping up during a race or test day.

Marshall Switch: The kit comes fitted with an easy-to-reach kill switch for parents or Marshalls.

Driver On-Off Switch: Ensuring easy access for the driver to power up their motor.

63T Axle Sprocket (63 Tooth Axle Sprocket): Precision designed for maximum efficiency on the track.
Warranty: All this with a 12-month no quibble warranty. If you have any issues simply return the kit to MightE for repair or replacement.

Total Kit Cost:
A competitive price of three thousand six hundred twenty pounds (£3,620) plus VAT and includes everything you need to jump into the karting adventure fully equipped. A deposit of £1,250 will secure your kit today!

Were you part of last year's MightE Bambino Championship? Your commitment to MightE means the world to us, and we're thrilled to offer these exclusive benefits.

Send us your MightE Gen 3 kit and this will act as your deposit for the next year's kart. If you have a MightE Gen 2 kit, we will offer a credit of £550 towards your deposit.
HURRY: This exclusive offer has limited availability so secure your kit Now.
If you were part of the 2023 Championship, you will agree The MightE Bambino Championship is not an ordinary championship; it offers an unparalleled platform for competitive racing while offering fair competition.



New To Our 2024 Bambino Karts:
MightE is a platform that offers competitive but fair racing - with our easy to run karts you will experience all the performance, build quality and reliability of the 2023 season with the addition features introduced for the 2024 season.

Extended Runtime: Our karts are built for endurance. Boasting a runtime of over 2 hours for learners and a solid 1 hour in race mode, you're in for an extended thrill. Run times are subject to conditions.

Safety and Efficiency: The new design optimizes not just for speed and agility but also for safety. This ensures every young racer can push their limits while being in a secure environment.

Motorsport UK Backing: Our collaboration with Motorsport UK not only brings in their expertise and legacy but also their commitment to promoting young talent and making karting more accessible than ever.


The Road Ahead:

The 2024 MightE Bambino Championship marks a significant milestone in karting history. With MSUK's invaluable backing and MightE's innovative approach, the future looks brighter, faster, and more exhilarating.

We're not just inviting you to a race. We're inviting you to be a part of history. So, gear up, secure your kit, and let's create memories on the tracks that'll be cherished for a lifetime.
---